Hi,
You've landed here because you're intrigued to learn more about me. I'm so grateful that you're interested and feel honored to participate in this challenge with you.
What is my superpower and why do I think it's my superpower?
I've given this question a lot of thought recently as working on my website re-design I felt it was important to have this in mind when sharing my purpose with people.
My superpower is Connection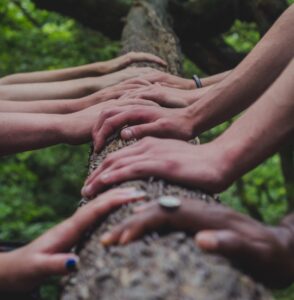 I think this is my superpower because I have a superb ability to see the existence of connections, be they between people, things, ideas or emotions. I can then utilize them for good. For example, I'm great at connecting people. I love to create groups, workshops, masterminds, online groups, or simply parties and events, that bring people together who will benefit from the collective experience I create with them in mind.
I also love disseminating information and connecting people to what they need to know, hear about, or discover. I'm a voracious reader and particularly love to connect people to books. I often find myself making the statement "Heh, there's this great book you could read that might support you with…" . With this in mind I created Lottie's Library as I wanted to bring this connecting activity to those who explore my website.
Perhaps the underwriting of my superpower of Connection comes from the fact I'm a highly sensitive person. This  lends itself brilliantly to connecting myself and others to feelings. I find I can often read people's energy and recognize shifts in their emotions, which supports me to work with them compassionately. When I'm coaching it often helps me connect clients to their own feelings. Maybe they're numbing or finding it hard to connect with how they really feel. I coach them to tune in and see the shifts in their energy and emotions, that I might be witnessing. However, I never tell people how they feel, because ultimately I'm not psychic and regardless no one needs telling how they feel. It's more a noticing that supports me to coach them to help them explore and be with their feelings. This hugely supports them in their personal growth.
So, my superpower is Connection, and with that in mind, I am so looking forward to connecting with you even more as you work your way through the YOUnicorn challenge.
With all of my love,