What do other people see in you?
For my 40th birthday in June 2016 I had a wonderful party to celebrate. My friends dressed up in 1920s dresses for the party held in a beautiful local Victorian house I hired. It's not easy to find such a venue in California, but it had to be done for this British gal's birthday!
As part of my celebrations my friends created and performed a surprise Skit and in that skit they memorably and hilariously depicted the ME that they see.
This skit was so funny, moving and beautiful. It completely made my day and will live on in my memory as one of the most wonderful things my friends have ever done for me.
I am so touched they see the me I hope I am and want to be. It greatly moves me that the person they describe is who I want to be.  They know that I am exactly who I am, and I now know that people truly see me exactly as I am.
The Skit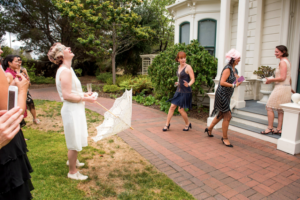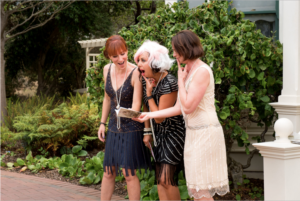 Photo Credit: Kristin Little
I wish I had known what I know now many years ago.
People See Me
The truth is my friends see me because I now let them see me. I have, for the past eight years, been working on my own rediscovery and showing up fully, every day, exactly as I am. Over time I have found the courage and conviction to show up even more fully ME every day. This process is one of evolution and rebirth and sometimes that is uncomfortable, terrifying and lonely. However, ultimately it reaps incredible rewards. My 40th birthday, and the many interactions I have with my friends, family and clients, are testament to that.
I believe that we can all live full, authentic, self honoring lives that are fully of service to ourselves AND others. It's important you want it and are prepared to do the work around your own rediscovery.
Lots of magic will show up in your life as you do!
With all of my love,


Photo Credits: Kristin Little